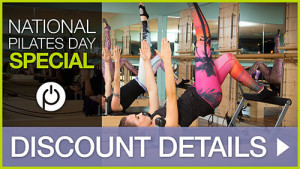 National Pilates Day is May 7
Happy National Pilates Day fellow pilates lovers! To celebrate this commemorative day, we are having a very special sale.
When: May 7th & 8th
The Sale:
Get 8 classes for $96 (3 months expiration)
Onzie leggings for 30% off
All other merchandise for 20% off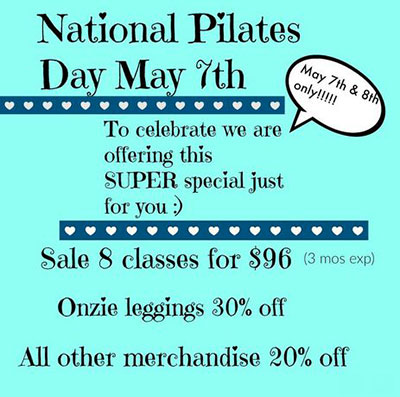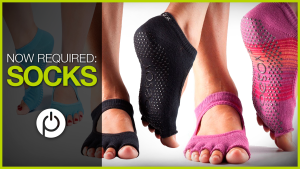 New Policy as of May 1st: Important for Your Health & Safety!
To make sure all our clients stay safe, clean and healthy, we will be requiring attendees of all classes to wear grip socks starting from May 1st and on.
Don't have grip socks? No problem. We offer Toe Sox and Shashi socks at the studio for purchase.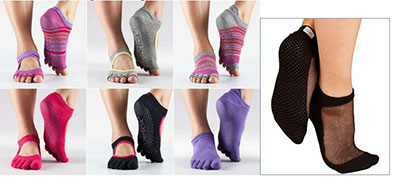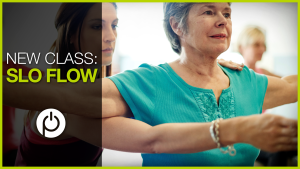 New SLO FLOW Class – Perfect for Slowing Things Down! (Starts May 19)
Life is fast-paced enough as it is, so come enjoy a calm, change of pace with our SLO FLOW class. This is ideal for people who are:
Recovering from an injury
Pregnant
A sassy senior looking for a lighter workout
Anyone needing to take time to slow down & breathe!
Instructor: Nicole
When: Starting May 19th, Thursdays at 11:30 am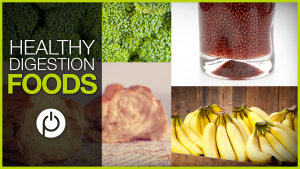 5 Foods that Help with Digestion
Healthy digestion isn't something we think about often…until discomfort or pain hits. Think bloating. Stomach pain. Heartburn. Luckily, we can help avoid the symptoms of poor digestion with proper nutrition.
Here are 5 foods that assist in happy, healthy digestion.
Fermented Foods (aka Kimchi & Sauerkraut) – Fermented foods like kimchi and sauerkraut (and drinks like kombucha mmm!) have probiotics that help balance bacteria in your digestive system. This not only aids in digestion (and even improved immunity), it helps you absorb more nutrients from the food you eat.
Bananas – The carbs in bananas are really easy for your body to break down, so, even if your stomach has been overworked lately, it can process a banana well. Not only that, it's far better for restoring electrolytes than unnatural, sugar-packed Gatorade! Plus, it has probiotics that help with that digestive tract being nice and regular.
Ginger – Did Mom used to give you ginger ale for a stomachache? If so, it was with good reason. Ginger has been used to treat uncomfortable stomach symptoms for ages, from nausea to an upset tummy. Whether eaten raw, boiled with lemon and honey or used in cooking, it is a great digestive aid.
Whole Grains – Whole grains are packed with fiber that isn't just good for your heart; it's great for your digestion. Fiber keeps your body feeling full and keeps blood sugars under control. Fiber also keeps food moving through your digestive tract; this lessens the chances of constipation or diarrhea. We recommend trying delicious, hearty whole grains like oats, brown rice and quinoa.
High Fiber Vegetables – As with whole grains, vegetables packed with fiber are important for keeping you regular. Some of the vegetables with the most fiber (and lots of other nutrients!) include:

a. Split peas
b. Broccoli
c. Brussel sprouts
d. Lentils
e. Artichokes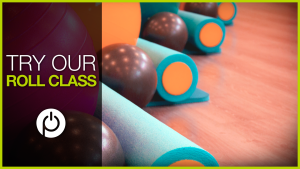 Have You Tried "This is How We Roll?
If you haven't tried our stress-relieving, happiness-inducing class, "THIS IS HOW WE ROLL", we highly suggest doing so. You'll be really glad you did. 🙂
When is it?
Sundays at 11:30 am
Mondays at 2:30 pm