The Ultimate Guide for Pilates Moms
How Pilates Benefits Moms + Helps You Get Stronger & Toned
As a busy mom, working out and getting in shape can feel like a serious challenge. You already have so much on your plate (perhaps literally with the amount of family dinners & snacks you prepare!). Luckily, there's a great type of mom workout to become stronger, get toned and achieve mental clarity; it's made up of stress-relieving exercises easy to work into your busy mom lifestyle: pilates.
There are countless pilates benefits, especially if you desire to get strong and sculpted. This fit pilates mom guide shares pilates benefits for moms, how to find the perfect pilates studio and actionable lifestyle tips.
Let's start with the basics:
What is pilates?
Pilates is a popular workout for moms that utilizes resistance training, controlled exercises and concentrated breathing & movement to link the body and mind. It was developed by a man named Joseph Pilates, who created the 500 specific exercises to grow this body mind connection that now make up pilates.
Pilates equipment, such as resistance bands, springs and mats, is often used to enhance the exercises and boost the pilates results. Folks new to pilates may find such equipment looks intimidating at first, but don't worry, within just a few classes you'll be rocking the pilates reformer like Serena Williams does a tennis racket.
Plus, these apparatuses are wicked good for helping you achieve a beach ready bod!
So, whether you seek pilates for relieving stress or getting the best behind to rock those favorite Victoria's Secret yoga pants, there are many pilates benefits.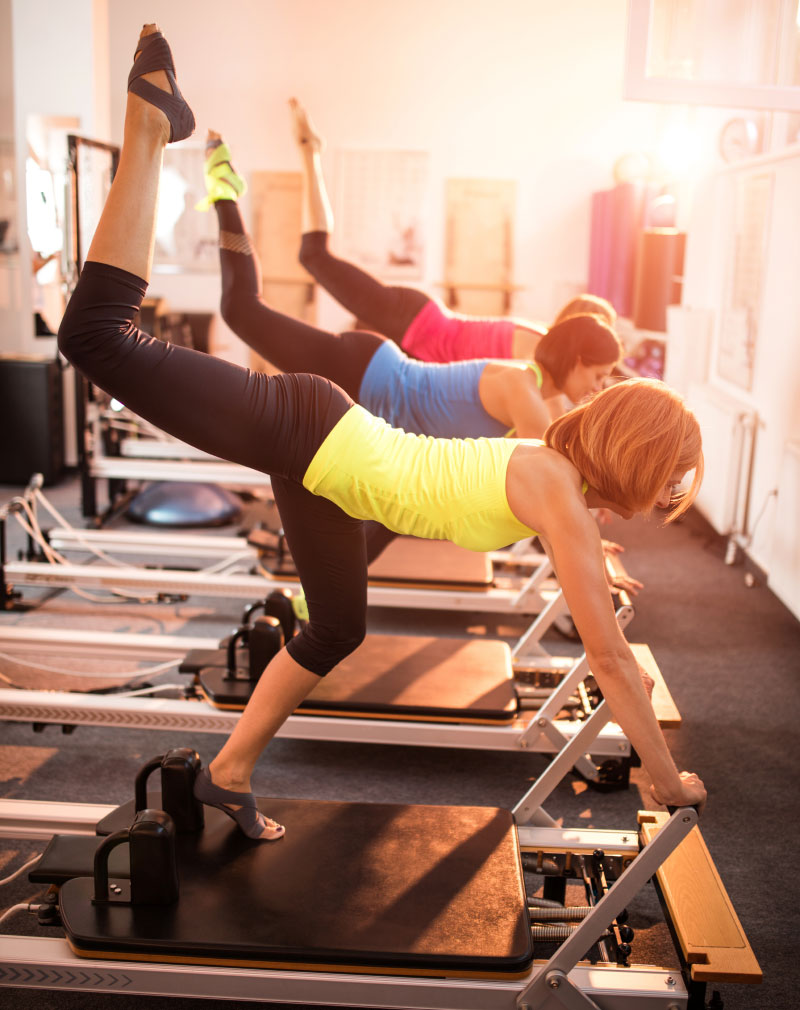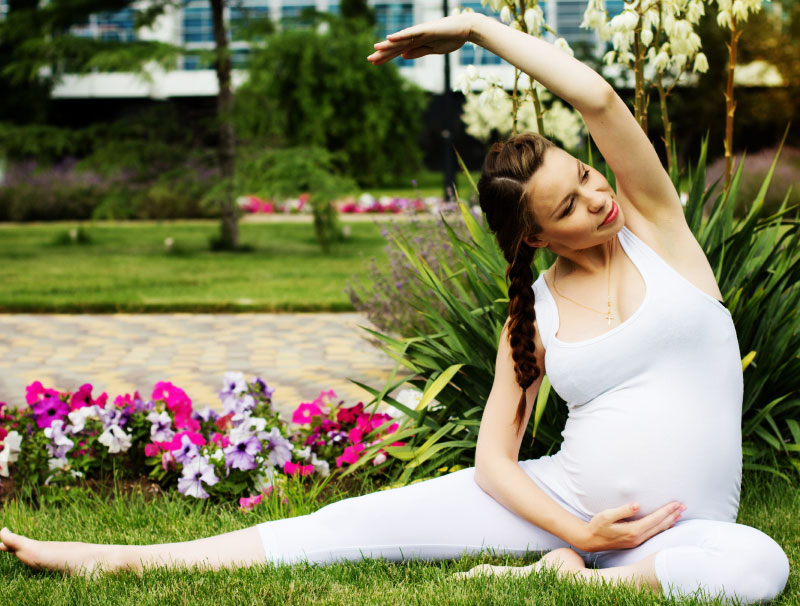 What are the benefits of pilates? Are there pilates benefits for moms specifically?
Short pilates sessions accomplish a lot fast. In just one hour you've burned a LOT of calories and revved up metabolism for the entire day. So even though, as a fit pilates mom, you don't have a lot of time, pilates doesn't need much.
In addition, pilates is a low impact exercise. Many moms used to run and practice other sports that are now overly harsh on their knees and joints. Doing pilates is the perfect way to still have fun exercising, without the discomfort and pain of other physical activities.
Through one hour sessions, especially when done consistently, pilates helps to:
Boost confidence.

After a pilates session, no matter your current size or level of fitness, it gives a Beyonce status confidence that makes you feel strong, graceful and ready to tackle the world. Because, after all, who run the world? Girls.

Gain and grow your core strength.

If you're looking to make like Arnold Schwarzenegger and get strong (though perhaps not quite that bulky), the full body workout that is pilates works and strengthens the entire body in a lean and slimming way, hitting many areas at once in very little time.

Increase your energy.

Let's be real, doesn't every mom need an energy boost? Pilates increases your energy levels throughout daily life, not just for pilates class. It does this through increasing lung and respiratory capacity, improving circulation and, of course, giving you an exercise high from releasing those happy, healthy fitness hormones!

Relieve stress through fitness.

Yes, a glass of wine after the kids go to bed can temporarily relieve stress (we won't deny that!), but it doesn't offer the same level of endorphins or muscle tension relief of pilates…alas.

Lose weight.

Whether you've just had your first baby or already have four beautiful (though sometimes exhausting) children, pilates can help moms lose weight fast. The resistance training of pilates creates lean muscle and pumps up your metabolism. So, unlike most general types of exercise, you still continue to burn calories after this workout routine.

Improve brain function and cognitive skills.

The mindful movement of pilates takes careful training and focus. This mindful rewiring during pilates exercises can actually boost memory and brain performance throughout other areas of life.

Become more flexible.

With kids, it may seem that your schedule feels less and less flexible, but that doesn't mean your body can't be. Get that fit mom body to pilates to stretch and lengthen your muscles, which increases flexibility and helps prevent future injuries.

Relieve chronic back pain and joint pain.

Between carrying baby bags and hauling soccer gear, many moms have and need a solution for chronic back pain. Pilates can help relieve this pain through targeted exercises and spinal & core strengthening.
I want to get healthy, strong and toned. How long will it take to get my muscles back in shape?
Pilates is a new mom workout that'll have you on your way to peak fitness at an excellent rate.
If you attend 2 – 3 times a week, you'll feel a difference in your body within just 6 – 8 classes. Keep it up, and you'll probably have a noticeably new body in just 18 – 20 classes.
That means if you can take just one hour, three times a week, to do pilates…you'll be rocking that more sculpted new mom body in just 6 weeks.
That's even less time than your child is out of school for summer. Yes, in that time they are attending space, nature or magician camp, you could be achieving higher mental clarity and getting a new fit mom body!
I live in the San Diego area and am looking for the best pilates in San Diego. Where should I go?
If you seek a pilates studio in San Diego with fit pilates moms and others working on health goals, Powerhouse Pilates in Pacific Beach is for you. This pilates studio was named for the moves founder Joseph Pilates designed, which highlight the core muscles, the "powerhouse" of the body: abs, pelvic floor and lower back. This core is what we train students to use in order to tone, align the spine and achieve health goals.

Are there pilates tips for clothing, such as what to wear or NOT wear?
They say the clothes make the (wo)man. It's even more true for the hot fitness mom. When you're in sassy, fun fitness clothes – you feel good and ready to work out. It's why we sell pilates clothes at our Powerhouse Pilates studio in Pacific Beach, to offer stylish, high-quality gear that active pilates moms can feel good wearing on a daily basis AND working out in.
Toe grip socks are required at most studios; they ensure you'll have the best possible grip on studio equipment for your own safety. Plus, they're a lot like soap or Purell…sanitary! You can snag a super cute pair at Powerhouse Pilates Pacific Beach – from brands like ToeSox and Shashi.
In addition, the Teeki and Spiritual Gangster gear at Powerhouse Pilates are perfect attire for working up a sweat and building sleek muscle.
Quick tip: Clothing with seams, such as leggings, can be helpful to notice and track in body alignment exercises.
DO NOT: Try to refrain from wearing clothing that is ultra baggy, which can get in the way of an instructor advising you on proper form. Also avoid clothing with zippers or other excessive accessories (say that 5 times fast). These can snag or get caught on equipment. No good.
What should I be looking for in a pilates instructor?
You want a pilates instructor that is incredibly positive and supportive, someone who is there because of their passion for pilates and love of seeing others achieve their fitness goals. Every teacher at Powerhouse Pilates in San Diego has been certified to teach pilates and been highly known for their dedication to our students, who are the #1 priority in everything we do.
As a fit pilates mom, you're busy taking care of others most of the time. Here, the instructors want to make sure you get encouragement you need and the time for yourself to get strong. Kids need support, but so do hard working moms!
It all sounds great, but I still have some questions about pilates!
If you still have questions on pilates or our studio, Powerhouse Pilates, no worries. Just give us a call to learn more at 858-220-2462.
Until then, keep rocking on mamasita!